Musician & Muse: A Short Life of Violinist Stefi Geyer, Part III
August 31, 2010 at 5:11 PM
This is the third part of a three part essay. In case you missed them, here is part one; here is part two.
Bela Bartok was not the first composer to come under Stefi Geyer's spell. Swiss composer Othmar Schoeck (1886-1957) was also afflicted with a deep, passionate love for the virtuosa violinist that lasted for years. Schoeck had first heard her perform in 1905, when she was seventeen. "She thrilled me to the depths of my being," he said. Their paths crossed again in 1907 when she performed in Leipzig while he was studying with Max Reger (the same composer whose works Stefi and Bartok had played together in Budapest). "My heartthrob, the lovely Stefi Geyer, was here recently; she played wonderfully and enchanted me more than ever," he wrote to his parents. Even toward the end of his life he sighed, "She knew how to move so beautifully and to walk so beautifully."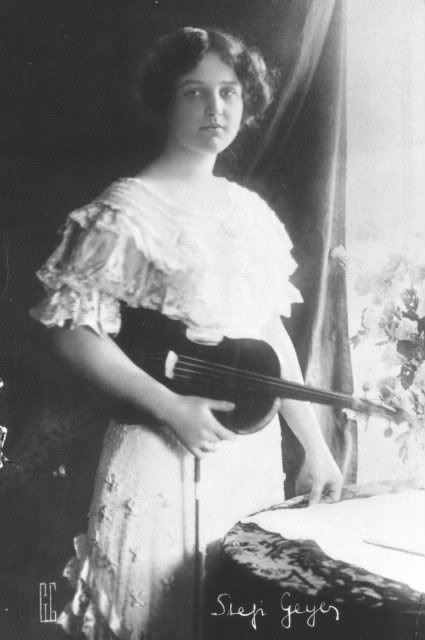 A few months after breaking things off with Bartok, Stefi finally met her long-time admirer in July 1908. Immediately Schoeck began to write for her. First came a tiny Albumblatt, then a full-length Violin Sonata, and then an actual Violin Concerto. All three were dedicated to Stefi. He continued in his attempts to woo her throughout 1908, later claiming they wrote passionate love letters to each other. If they did - and historians are skeptical on the point - they were later burned by his wife. Adding weight to that skepticism is the fact that Schoeck complained to others that all the physical contact he had been able to wring out of Stefi was a chaste kiss, and that Stefi was his only female friend that had not at some point made a pass at him.
Sometime around 1910, Stefi Geyer became engaged to Viennese lawyer Erwin Jung. Predictably, Schoeck referred to him as a "Viennese ponce" - or a person who fakes having class or culture. During her engagement, she invited Shoeck to come to visit her and her family in Budapest. He accepted the invitation, went to Budapest, wrote an unconvincing postcard to his friends that he had gotten over her, came home, and then promptly began writing a violin concerto for her. While he was writing the piece, he began rooming with a Russian medical student named Bertha Liebert. She soon became pregnant, but the baby died the same day it was born. He nonetheless continued to sleep with Bertha while hoping against hope that he could seduce Stefi.
The violin concerto that Schoeck wrote for Stefi.
To Schoeck's dismay, Stefi married in 1911 and relocated to Vienna, where she took the name Stefi Geyer-Jung and taught. Unfortunately her marriage with Jung was not a happy one, and he eventually began drinking heavily. Throughout this turbulent time Stefi continued with her career, touring throughout Europe and even playing a concerto in Budapest that her old teacher Jeno Hubay had written for her.
Stefi Geyer playing Kreisler's arrangement of Tartini's A-major Fugue
During the late teens, perhaps spurred in part by the war and her unhappy marriage, Stefi seems to have reconsidered the direction of her identity as an artist. She began studying with violinist Adolf Busch in Budapest, learning new repertoire and new styles of playing, and in the process switching the emphasis of her repertoire from virtuosic Romantic pieces to more restrained Classical ones.
Then, in 1918, catastrophe. Between a hundred fifty and two hundred million people around the world - three percent of the population - died of the infamous "flu." Otherwise healthy young adults were the primary victims. During this terrifying epidemic, coming straight on the heels of the First World War, Stefi's husband died. Two years later, in 1920, she married a man named Walter Schulthess, who was a pianist, composer, and concert agent (and, incidentally, a friend of both Schoeck and Jung). Although they both traveled a great deal, they moved their home base to Switzerland, where, in 1923, Stefi began teaching at the Zurich Conservatoire. (She taught violinist Aida Stucki, who became Anne Sophie Mutter's mentor.)
Her pace of touring did not diminish throughout the twenties. In fact, she gave more than a hundred concerts in Scandinavia in the 1922-23 season alone. In 1924 she traveled to America, but reviews of her performances there have not surfaced. She performed many concertos with all of the major Swiss orchestras, and even performed the violin concerto Schoeck had written for her, with Schoeck at the podium. During the thirties she recorded a good deal, and today we have records of her interpretations of Bach, Beethoven, Mozart, Haydn, and even Schoeck, although they are difficult to find on disc.
Although she and Bartok had parted fifteen years or so ago under less than amicable circumstances, they apparently somehow reconciled in the teens or twenties. In fact, by 1928, Bartok, Stefi, and her husband were all writing friendly letters to one another. Schulthess and Stefi often played his compositions, and in 1929 Stefi performed in a recital that consisted of all Bartok's music. In 1940, she even helped Bartok and his second wife Ditta emigrate to America to escape the turmoil enveloping Europe, and she would often introduce her students to this extraordinary man and composer.
Stefi Geyer died in December of 1956 in Zurich. Somehow after her death her friend and fellow musician Paul Sacher retrieved the manuscript and the letters from Bartok that she had kept locked away for so many years. Sacher was the conductor at the world premiere of the piece in Switzerland in 1958, and in the spring of 1961 Isaac Stern gave its American premiere at Carnegie Hall. Although it is not heard as often as the Second Violin Concerto, it is still occasionally revived today.
Much about Stefi's career remains shrouded in silence. Because more research has been done on men like Schoeck and Bartok than on Geyer, it is tempting to identify and remember her solely as a muse - in other words, as someone only worth remembering because of the extraordinary inspiration she was to others. But Stefi Geyer's accomplishments as a violinist are just as important and unique in their own way as the pieces that she inspired. To remember her solely as Bartok's early love does her a great disservice; despite the fact that we do not know a tremendous amount about her life, it is clear, as Paul Sacher said, that "She was a superb violinist, a major soloist and an excellent musician."
Stefi Geyer playing Dvorak's Slavonic Dance No 2 with her second husband, Walter Schulthess on the piano.
All three chapters you have written are fascinating. I looked forward to each new one. Stefi must have been quite an incredible woman -- beautiful enough to attract men and not to lose their interest by her own substantial accomplishments. Her life was very different from that of Alma Mahler, who was also beautiful and talented, but lived mainly as a muse to various men. I'm so glad that you did so much research on this accomplished woman who has been overlooked. It reminds me of Rachel Barton Pine and Maud Powell. I really enjoyed your writing.
From Emily Liz
Posted on September 2, 2010 at 4:05 PM
Thank you, Pauline. Yes, she was a very interesting woman. I feel bad that more information about her as a person is not available. Perhaps somewhere in Europe there are more letters - photographs - essays - diary entries - newspaper articles - something that can tell us more. There must be. Eventually someone will get around to digging them out and sharing them!
Thank you very much for your kind words.
This entry has been archived and is no longer accepting comments.