A chat with Lady Halle, Part 1
February 14, 2011 at 3:30 AM
Whenever I have any free time I head to books.google.com and, armed with a list of great violinists of the past, read through Victorian magazines that have been released into the public domain and scanned by Google. Yes, I am officially a total violin nerd, and proud of it, thanks much!
Just this evening I found a wonderful piece from Cassel's Magazine entitled "A Chat with Lady Hallé" - Lady Wilhelmina Hallé being one of the greatest violinists of the late nineteenth century, whose only equal was Joseph Joachim. (She even outshone Pablo de Sarasate according to a variety of Victorian critics. In fact, I have not read a single negative review of her playing dating from her adult career, and I have read many.) I wrote an essay about Wilma Neruda this past June, and I wish I had had this article to draw from when I was writing. It was written by "Baroness von Zedlitz" in 1894, and covers a wide range of topics. Despite its age, it struck me as being very contemporary and relevant even today, so I'm going to reproduce it here.
A Chat With Lady Halle
By the Baroness Von Zedlitz
[Part 1/2]
Violin playing has, during the last century, attained a high degree of real excellence in England, although, we regret to say, not particularly through the instrumentality of English executants. On the contrary, England has produced but few solo violin players of eminence, and violin virtuosity has, as a rule, been most ably represented in this country by foreigners.
Although we may not claim her as our own, by reason of her alien birth and extraction, we are proud to know that the subject of this word-sketch, Lady Hallé, has settled down on British soil, and has chosen her home in our very midst.
Her inherent genius, coupled with early and strict training, undoubtedly has contributed much to the shining success with which, since the date of her earliest musical reminiscences, she has displayed and perfected the brilliant gifts bestowed upon her by Queen Nature.
The power of really pure interpretation on the violin has not been bestowed upon many women, and Lady Hallé may be said with truth to have been the first girl-artist who had the pluck to stand by her inclinations, and who refused to allow herself to be disheartened by outward considerations not consistent with her inborn principles and predilections with regard to her executive art.
At the tender age of seven her wonderful powers began to assert themselves, but - she tells me - they had to be exercised almost by strategem.
When I had the pleasure of a chat with Lady Hallé some days ago at her charming home, she was kind enough to give me some interesting details concerning her eventful career.
"My parents didn't want me to play the violin," said Lady Hallé, after we had fallen out of the ordinary routine of small talk, "but my brother Victor, who was then preparing to study with my father, inspired me with the notion that there was more to be got out of his child-violin - a mere toy, without much feeling or tone - then he seemed able to draw forth with his bow.
"It absolutely fascinated me so that I had no rest until I had handled it myself.
"In those days there was rather a strong prejudice against violin-playing among our sex; it was not considered a graceful accomplishment nor a womanly one, but I found it impossible to crush the desire within me to draw the bow across the strings of my brother's violin; so I lay in watch for the moment when he would go out, and then stole to his room in order to shut myself up and indulge in the sweet notes of the instrument.
"Forbidden fruit, indeed, and therefore all the more luscious to taste!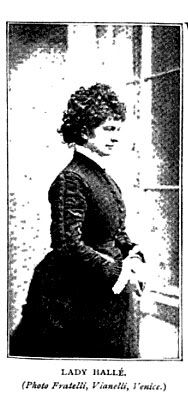 "To begin quite at the commencement of my career, however, I should tell you that I was born in Brunn, Moravia, my birthday being the 21st of March, 1840. My father held the position of organist and Capellmeister at the Cathedral of that town, and the Neruda family dates back, musically, to the seventeenth century. The earliest musician of our name was Jakob Neruda, who died in 1732.
"His sons were also musicians, and when they died the sons of the younger offspring of Jakob Neruda, called Baptiste Georg, left two sons behind him, both of whom became chamber-musicians at the Court of Dresden. The elder of these brothers was the grandfather of my father.
"It was necessary to go back a little in the history of our family in order to show you that there was a very excellent raison d'étre for my early musical proclivities.
"It became evident to my parents that a career lay before me, although they were quite averse to my taking to the violin. They wanted me to play the piano; but as a child I hated the idea. Matters continued in this wise [sic?] for some time, I always secretly increasing my power over the instrument, without informing my parents of the progress I had made, until one day by accident my father heard the strains of music emerging from my brother's room, and, overjoyed at the progress he believed his little son to have made, he rushed upstairs and discovered his mistake!"
"What happened then, Lady Halle?" I asked, becoming keenly interested in the turn of events.
"Well," she replied, after a pause, "my father was very much disappointed and pleased at the same time. I feared that the discovery would lead to a strict prohibition on the part of my parents of my ever touching a violin again.
"But I was overjoyed when my father took me in his arms, his eyes moist with tears, showing me that his artistic nature (for he was every inch a musician) had experienced pleasurable appreciation at the surprise that came upon him, in spite of my brother's backwardness; and from that day forth my father devoted his spare time to the development of my talent.
[Victor Neruda later became a cellist, so apparently he eventually caught on!]
"Yes, my first laurels were earned at an absurdly early age, and this circumstance, like the origination of my career, occurred, so to speak, by accident. I was practicing one day with my father as usual, for we were very industrious and ardent in our devotions to music, when Professor Jansa rushed in unexpectedly to see my father on some matter concerning a concert which he was arranging. This incident occurred in Vienna. On hearing me play Jansa - I can see his face before me now - appeared to be electrified, and almost beside himself with joy. Nothing would do but I must play at his concert, which suggestion was at first pooh-poohed by my father, but then taken seriously into consideration after the continuously urgent entreaties pressed upon him by Jansa.
"I think I was the least preoccupied member of the trio, for the importance of facing an audience at that age was a thing unknown to me.
"I played at Jansa's concert and achieved a phenomenal success at my first appearance on the platform; I believe that, entre autres, I ventured upon a sonata of Bach, which elicited a veritable deluge of applause. After that Jansa became my master."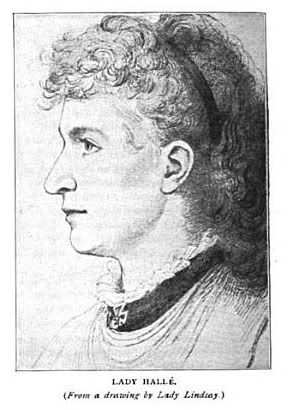 "Who were your subsequent teachers, Lady Hallé?"
"I have never studied under any others than my father and Jansa.
"I thoroughly disapprove of the system of changing schools so prevalent just now. One master only should develop and train the flexible, impressionable growth of interpretation, so that the young shoots in the form of impressions may not wander adrift and lose themselves in the ocean of infinity. Is it not better to adopt one particular manner of expression and express one's self well than to try several methods and interpret these indifferently?
"We each have sympathies and special affinities which we should endeavour to portray with our own individuality.
"It is a thousand pities that beginners are sometimes placed under the direction of mediocre teachers. It is suggested that they will not require a good master until their talent is more advanced, and then, when they have wasted years of fruitless labour, and have acquired much that is deteriorating to their technique and style, they find themselves placed under a first-class tutor, who will not tolerate their faults - by this time deeply rooted - and who, in dealing peremptorily with badly-acquired habits, often crushes an intelligence which might have blossomed into something better than good.
"Genius should be dexterously trained from youth upwards, or it loses much of its inborn strength.
"The violin is, next to the voice, the most powerful exponent of musical feeling, and requires to be dealt with poetically, simply, and yet characteristically.
"The player during his period of experiment should try to adopt a style in unison with the nature and idealism of his instrument if he desires to obtain brilliant and beautiful effects. These last named can only be ensured by entirely abandoning one's self to the devotional study of one's art, for nothing is more painful than a crude, erring technique or a want of feeling and refinement in the production of musical sounds on this particularly subtle instrument.
"On the other hand, there is nothing more divine, nay heavenly, than the nobility and grandeur of a perfect interpreter of the literature of the violin - heavenly indeed, for we can trace its religious influence back to the year 1650, in which we find that the clergy, once having discovered the artistic capabilities of the violin, were not slow to introduce it to the services of the Church.
"The violin," continued my hostess, "is generally acknowledged to be the most popular and useful of all portable musical instruments; besides, is it not the principal one in figuring in a stringed orchestra?"
"On question, Lady Hallé. Do you consider violin playing a facile accomplishment?"
"Yes; certainly. There is none that can be so easily mastered, if the learner sets about his task in the right way; for the fiddle exercises a subtle charm over the mind - a charm which furnishes much good suggesting for conceiving and executing the ideal of the composer."
"Do you agree with the theory of an old fiddle being better than a new one?"
"A violin can only be well made to begin with, and one must not always judge the instrument by its outward appearance. Some of the old Cremona violins have been overrated by reason of the beauty of their ornate designs; but there is every reason to believe that the more modern master-makers have produced, and do produce, as beautiful tones in their violins as those emitted by the ancient ones.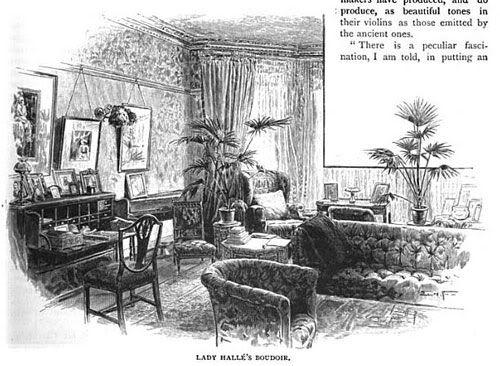 "There is a peculiar fascination, I am told, in putting an old, disused violin through a course of rehabilitation, and in reawakening its old musical capacities. Thus the violin enjoys a sort of mysterious immortality, the effect of which is augmented by the often erroneous theory that no good makers of violins have existed since the Cremona days. The main excellences of a violin are purely mechanical; therefore let it not be judged by its outward appearance any more than a singing-bird be praised for its fine feathers. [In another book I read, her husband, pianist and conductor Charles Halle wrote in August 1890, "On Monday morning our beautiful goldfinch died in Wilma's hand, to our great grief. The last two days it had been ailing, but we hoped it would get better again; we were very sorry indeed. If, according to Hector Malot, great affection for animals is a sign of insanity, then Wilma and I are a very insane couple. " Later in the same book he makes the satisfied observation that "We travel now with no less than sixteen birds." In light of this, I found her analogy to birds to be rather endearing!]
"Remember the violin is quite three centuries old, and is practically the only instrument that has not undergone any radical change. Many futile attempts have been made to improve it, but all experiments have failed, and the violin will ever maintain its sway over all other musical instruments."
"Do you know to whom is attributed the invention of the violin in the first instance?" I inquired later.
"It is commonly supposed," said Lady Hallé, "that a man of the name of Diuffoprugcar, born at Bologna, was the originator, and I am told that there exist three genuine violins of his making, dating back as far as 1520; but I believe that the authenticity of any date in a violin before 1520 is questionable."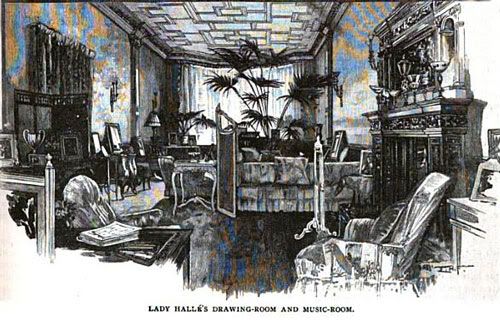 "Which of the ancient makers, in your opinion, are most productive of perfection in tone qualities?"
"There you ask me a difficult question. I love my Stradivarius, and for me there exists not a violin to surpass it in the exquisite delicacy of its intonation. But we have it on the best authorities - to whose superior power I bow in submission - that for sweetness of tone and beauty of design the brothers Antonius and Hieronymus Amati are even now hard to beat."
Stay tuned for Part 2 of the interview with Wilhelmina Hallé, in which she discusses her favorite composers and her career as an adult virtuosa.
What pure delight, Emily Liz. Thank you! I especially enjoyed the subjects she touched upon that are still controversies. But really! The violin is a "facile" instrument!
Thank you for posting this article. I have been a fan of Maud Powell's for a long time, and am currently re-reading her biography. She and Wilma Neruda have often been ranked into the top players of their time (stretching time a bit), into a class with Ysaye and Kreisler. As female violinists, they have overcome incredible odds and had to prove themselves continously against the most blatant prejudices. I feel that they paved the road for today's many successful female violin soloists.
This entry has been archived and is no longer accepting comments.