Printer-friendly version
Emily Visits Violaland, Part 7/7
August 9, 2012 at 10:49 PM
Well, my visit to Violaland has officially come to an end.
Because...
I'm moving there.
Or at the least, buying a second house there and commuting back and forth between Violaland and Violinland.
Or whatever the metaphorical equivalent to taking an audition on viola and then winning it is.
Yes, I've just won a seat in northwest Wisconsin's best symphony orchestra. (And no, there aren't a lot of symphony orchestras in northwest Wisconsin, so no, there isn't a lot of competition for that label, but sshh. Ssshhhhh.)
This October we play Mahler 6.
Well, that's one way to learn alto clef.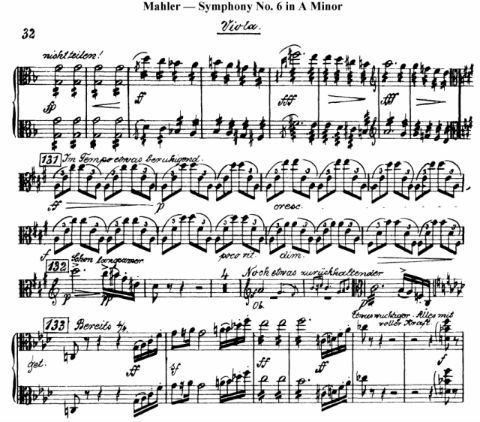 And so on and so forth. For forty pages.
So here's to the beginning of a new series of blogs called, simply, "Emily in Violaland."
Now, if you don't mind, I should probably go.
Because I really need to practice.
Yay!!!! Welcome to violaland. Going back and forth is easy.
Congratulations to you! And what a great piece to start your new chapter!
Congratulations, and enjoy violaland!
Congratulations! Have fun in your new homeland.
Congratulations
Yeah! Watch your bow arm.... Mahler is a killer.
Welcome!
To me the problem with going into violaland is not alto clef... it's treble clef! Then the violin mindset kicks in and AIAIAI! But that probably won't be a problem if you spend most of your time in violaland. At this point, I spend most of my time in violinland and only a few times a year go to violaland (I did live there for a couple of years...). It's good to be able to do both. Enjoy the dark side!
This entry has been archived and is no longer accepting comments.