V.com weekend vote: Have you completed the 2021 Gig-mas Triple Crown?
December 24, 2021, 4:09 PM · As a gigging musician, the month of December is especially busy. The amount of Christmas concerts and extra church services make up a significant part of my income for the year.
With the cancelled season last year do to the pandemic, and the looming uncertainty that now seems far too familiar, this December has been the perfect storm of "say 'yes' to everything you can get."
As a result, and I doubt that I am alone, has resulted in triple and quadruple service in a single day, packing multiple instruments and changes of clothes as I leave the house at 7am, and return at 11pm.
As a member of the orchestra for local ballet company, we've begun testing every concert day for covid, (a negative rapid result is required to enter the building). While it's easy to start becoming critical of the process while watching the clock creep closer and closer to the downbeat, much akin to standing in the TSA line in hopes that your plane doesn't leave without you, the harp player coined a phrase that has become our new motto:
"Be Positive, but stay Negative!"
The encouragement to keep your spirits up has made a huge difference, and spreading joy instead of frustration can help even the most difficult of situations.
***
As a final note, I have found that over the years, there are essentially three works, or genres that make up the Gig-mas experience.
They are, Tchaikovsky's "Nutcracker," Handel's "Messiah," and the classic carol sing-a-longs. If I can manage to play all three (or even selections from each) in the month of December, I consider it an astounding success. Did you get to play some selections from any of these, this year? Please participate in the vote and share your thoughts about this music.

Of course there are other seasonal staples such as "Sleigh Ride" or Vivaldi's Christmas Concerto, but they are more suited for a Gig-mas BINGO card.
I decided this year to make an award for gigging musicians to post on their social media as a fun badge of honor for completing the big three, the triple crown of Gig-mas, if you will.
So here it is: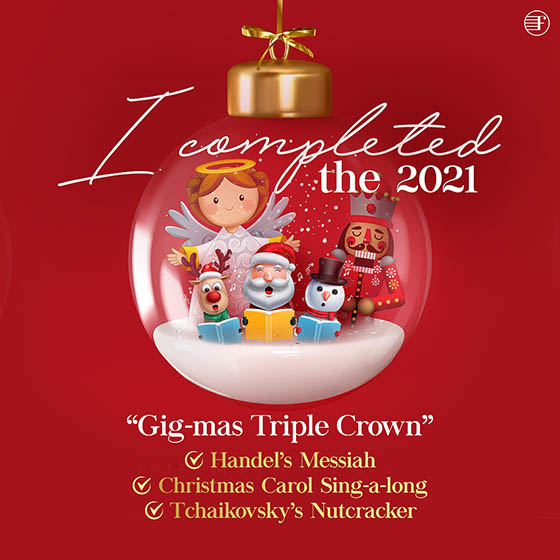 Congratulations if you played selections from all three. And better luck next year if not. Here's to celebrating the return of live music, concerts, and gathering in person again.
Be well, and practice well!

Replies
This article has been archived and is no longer accepting comments.